PATTON (or UPPER CIBOLO COMMUNITY) CEMETERY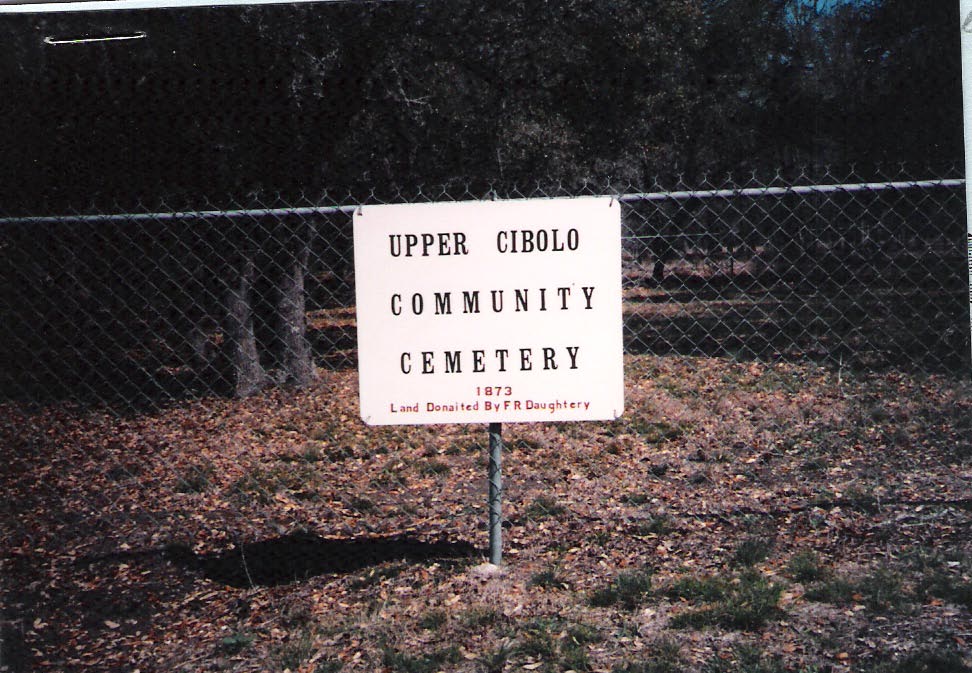 This Cemetery is located on the Upper Cibolo Road, Kendall County, Texas. When the Cemeteries of Kendall County were inventoried in 1984 and 1986, the Cemetery Committee called this the Patton Cemetery.
In 1993 a letter was received from Ellen Davis Denson, a descendant of Felix R. Daughtery containing a picture (see above) which indicated the property for the cemetery was donated by Felix Daughtery in 1873. Her cousin, Tuttle Beach, of Tombstone, AZ had the fence built in 1960. The neighborhood had a sign made and erected in 1983 showing the cemetery to be the Upper Cibolo Community Cemetery. Felix R. Daughtery was the father-in-law of Sheriff Monroe Saner.
Corrections to books past the printing stage are impossible to correct. Perhaps printing this history here will help the researcher to locate the burial place they are searching.
---
---
Daughtrey, Felix R.
b. 1827
d. 1910
Dedecker, (baby)
no dates
Griffin, ----
no dates
Harrell, Miss B. G.
b. 1869
d. 1884
Herrin, Annie
b. 1848
d. 1932
Herrin, I. F. (Isaac Francis)
b. 1833
d. 1887
Howell, Clara
b. 1878
d. 1938
Patton, Charles Henry
b. 1875
d. 1900
Patton, Missouri nee Estes
no dates
Saner, (baby)
no dates
Young, (baby)
no dates
UNKNOWN:
1 adult,
1 child
---
This information printed with permission is from a survey of cemeteries made by members of Boerne Area Historical Preservation Society, published in 1985, "Gone But Not Forgotten, Vol. II"; p64/ Catharine Schwarz / /printed June 1997. History of the name added on January 8, 2006 from the files of the Boerne Public Library.
---