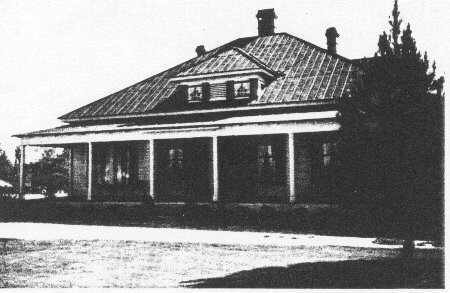 GORMAN/HILLCREST SANITARIUM
1003 N. 5TH Street, Comfort
HISTORY: Hillcrest Sanitorium-Gorman Home was built in 1914 by Mrs. J. B. Eddleman, a registered nurse, and her father. Mr. Stephen Quinon. The sanitorium served as the community's first hospital. Surgery and maternity cases were handled here. In 1919, Dr. C.C. Jones bought Hillcrest to use as both the residence for his family and for a hospital. By 1989 when Harriette and Bill Gorman purchased the property, the house had fallen into disrepair. They restored it with careful attention to architectural detail and furnished it with many early American pieces of furniture. The house had five chimneys so Mrs. Gorman rechristened Hillcrest as Chimney Top Acres.
Source: Boerne Public Library files, February, 2000.
Please Press your Browser's BACK Button to Return to Main Page.