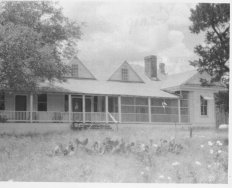 U S Army photograph
IDLEWILDE LODGE
Southeast of Comfort
HISTORY: This building was build in 1902 of long leaf Texas yellow pine. It was first used as a health facility by Dr. C. H. Wilkinson of Galveston. In 1906 the property was sold to E. Hugo who operated Camp Reliance here until 1912 when Robert Wilke bought the land and adopted the name Camp Good-Times. This turn-of-the century building then served as a summer camp for girls for over sixty years. The camp, named Camp Idlewilde, was run by the YWCA. (Young Womens Christian Association).

This building was designated as Texas Historical Landmark in 1982.
Source: Boerne Public Library files.
Please Press your Browser's BACK Button to Return to Building Index