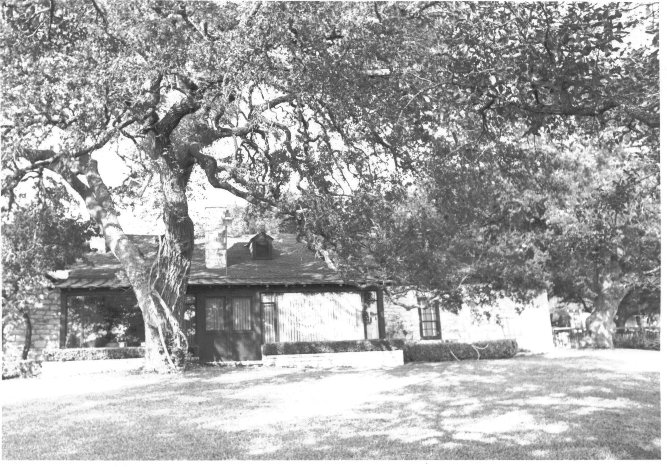 POST OAK SPRINGS RANCH-KENMORE FARM

DESCRIPTION: One and one half story with broken gable to side; roof overhangs to form one story gallery over central door with flanking windows; 18" walls with fireplace in every room; has basement. Open porch now enclosed; addition to the back.
HISTORY: The Old Post Oak Ranch was owned by George Wilkins Kendall, a native of New Hampshire, and one of the founders of The Picayune, [New Orleans newspapre]. "Kendall knew the barren, rocky hills of New Hampshire, the gentle countryside of France, the green hills and bleak moors of England and Scotland, the lush marshes of Louisiana and the coastal plains of Texas. He was no stranger to the ruggedness of Northern Mexico, to the unlimited llanos estacados of West Texas, to the mesas and the green Rio Grande Valley of New Mexico. One day he saw the gentle rise of a post-oak hill sloping down across green meadows to a creek fed by springs, a crooked creek choked with cattails and with peppery water cress. He said he wanted this to be his home." - by Sam Woolford in an article in the Dixie-Times-Picayune States Roto Magazine, Sept. 1955.

In an article in his book, "Historic Images of Boerne, Texas", Garland Perry writes, "While in Paris promoting the sale of his book about the Mexican War, Mr. Kendall married the former Adeline Suzanne de Valcourt. Six years later - in 1855--he returned to Texas with his wife and two charming young children to make the beautiful Hill Country their permanent home," and "Mr. Kendall immediately became involved in activities pertaining to the development of Boerne and Kendall County. He was instrumental in building St. Peters Catholic Church, the first church in Boerne. Kendall imported fine-wooled Merino sheep and English sheepdogs to the area, and, of course, he took an active part in organizing Kendall County. Kendall died of pneumonia at his ranch house October 21, 1867. He was 58 years of age." The county was named for George Wilkins Kendall. Recently a chapter of the Daughters of the American Revolution was named for him.
An article written by Mary Jane Grosser for the Kendall County Historical Commission publication, A History of Kendall County, Rivers, Ranches Railroads Recreation states that ranch known as Post Oak Springs Ranch was bought from the Kendalls by Otto and Eva Gallat in 1912 or 1913. They were farmers and ranchers, also raised and sold butter and cream. There the Gallats raised there five children who were schooled in the one-room schoolhouse at Pleasant Valley.
The historic place was later owned by Clifford Mooers, oilman and thoroughbred breeder. When Mooers was young he went to the Yukon and prospected for gold. Across the wind-swept tundra of the Far North, Mooers went seeking the yellow metal that has lured men from time immemorial. He drove dog sleds into the blinding whiteness of the Arctic Circle. For three years he ran an Alaskan tracing post. He was one of that crew of young eagles in World War I who flew the early flying machines. His search for gold gave way to a determined hunt for the black gold of Texas. He became one of the outstanding independent oil operators as he built his successful company Shasta Oil Company. Mr. Mooers developed the hobby of raising and racing thoroughbreds. His horses made headlines at Churchill Downs, Preakness and Belmont. These horses were bred on the Mooers Farm near Lexington, Ky. then raced in the Kentucky races. Each year 10 fillies were brought to the Kendall County Ranch and turned loose on the gentle slope. Mr. Mooers did an expert job of restoring the old house, but left untouched the original construction of stone and heavy cedar timbers. Kenmore Farms passed to his daughter, Maria Heater and then to her children. Historic Marker placed in front of the ranch house.
Source: Boerne Public Library files- Feb. 2000-material added in March, 2010.