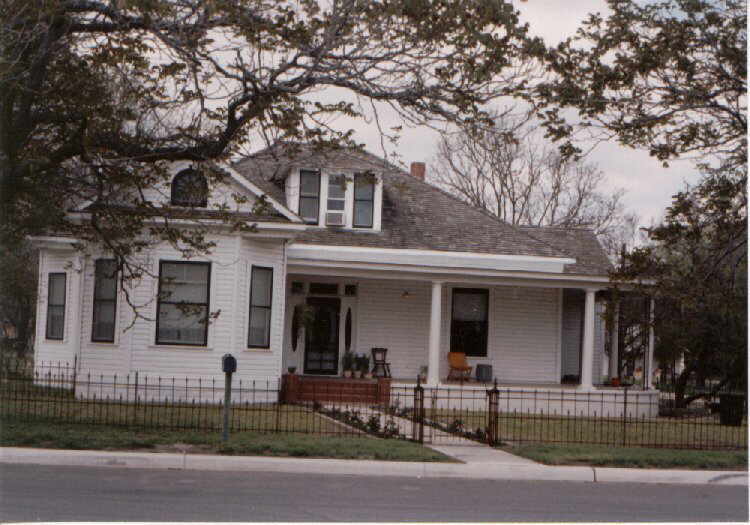 DAVIS-KIDWELL HOUSE-METHODIST PARSONAGE
228 E. Theissen, Boerne
>DESCRIPTION: One story frame with gallery that wraps around east and south sides; bay windows cut diagonally at corners; front door & sidelights have oval glass with transom above; doric columns on porch.
HISTORY: According to the deed records there was a subdivision in 1912 of the Lot 3 of Beversdorf resulting in Lot 24 which was purchased by L. V. Lamm by Charles and Wilhelmine Reinhard. Reinhard's had purchased Lot 3 from F. W. Gerfers in 1906. It is not known who built the house, but we see that Charles Reinhard owned the property at the time the house was supposedly built.

Mr. and Mrs. Lamm sold to August and Dora Kruckemeyer in 1917.

William Gammon Davis, Sr. purchased this house shortly after he bought The Boerne Star newspaper which he published weekly. He also served as Boerne Postmaster from 1933 until he died in 1940. His sons, Gammon Jr. and Jack, and later his grandson, Wm. Gammon III continued publishing the paper until it was sold in 1976.

Wm. Gammon Davis, Jr. was mayor of Boerne, 1945-1951. Mrs. W.G. Davis (Mamie) lived in the house until her death in 1964. In 1968 W.G. Davis, III purchased his grandparent's house living here until 1989 when it was sold to Ed and Barbara Kidwell.

The house is now owned by the Methodist Church and is used as a Parsonage.
Source: Boerne Public Library files.
Please Press your Browser's BACK Button to Return to Main Page.