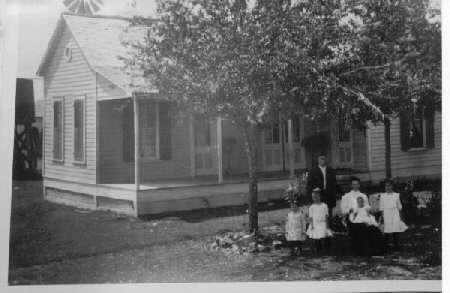 SCHWARZ, (ADOLPH & ANNA ) HOUSE
318 Live Oak, Boerne
DESCRIPTION: One story, gabled roof. front porch with doors opening to three rooms.
HISTORY: Adolph and Anna Schwarz married in 1899. The first year they lived in New Braunfels where Adolph was in the well drilling business. They moved back to Boerne and lived in a small house on Blanco Street in back of courthouse. They had a lot on Live Oak and Schleicher Street where they built a house and moved into it in Dec of 1902. They never moved again. Adolph was in the well drilling business until 1912 when he then took over the plumbing business of his father-in-law, Moritz Pfeiffer.[See Pfeiffer-Agold House] After their deaths the homeplace went to son, Lorenz, who lived in a smaller house behind this one on Schleicher Street. Lorenz and his wife tore the old house down and built a new one. This second house was later bought by Max & Viva Mae (Lester) Schwarz. Max was a grand-son of Adolph and Anna.
Source: Boerne Public Library files. Information from Ella Fabra and Cathy Schwarz.