BOERNE SCHUETZEN VEREIN
Located on Shooting Club Road

Club Building, 1982
Note the notched rifle rests on the shooting gallery

Rifle Range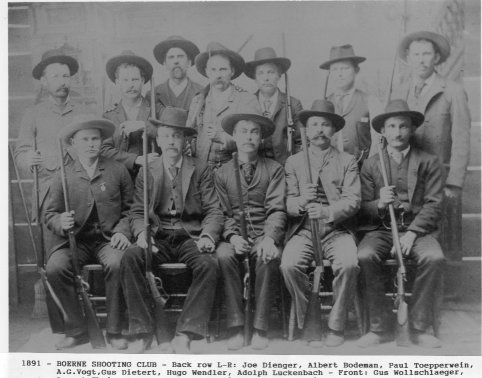 Back row L-R: Joe Dienger, Albert Bodeman, Paul Toepperwein, A.,G. Vogt, Gus Dietert, Hugo Wendler, Adolph Luckenbach
Front row: Gus Wollschlaeger, August Theis, Eugene Laue, Henry Bickel, Ernst Beseler.
HISTORY
A history of the Boerne Schuetzen Verein [Shooting Club] was written in 1949 as a commemoration of the one hundredth birthday of the settlement of Boerne. According to the writer, "the Boerne Schuetzen Verein was organized about the year 1864. The first rifle range was located on property owned by William Kuhfuss on Main Street south of property now owned by Max Richter, Sr." [where the Security State Bank & Trust is now located in the year 2004].
"Known charter members were Reinhold Kutzer, Reinhard Kutzer, John F. Stendebach, Anton Bergmann, E. A. F. Toepperwein, Joseph Phillip, William Kuhfuss, Paul Toepperwein and John Werner."
" At a recent meeting at Kreutzberg, Otto Schweppe, one of the Boerne Club's oldest and most active members shot a 249 out of a possible 250. He joined in 1897 and has always been an excellent shot. L. E. Jungmichel, Gus Dietert, A.T. Wendler and Gus Wollschlaeger are among those holding medals for their excellent records in shooting. Some past members who are still living are Joe Dienger, August Dienger, Gus Dietert, Emil Schwethelm. Paul Holekamp who joined 44 years ago and Gus Wollschlaeger who joined in 1888 are still members, altho not as active as in years past. The Boerne Shooting club has 92 members today and good friendship and fellowship are nurtured by the weekly or monthly get-togethers for sport and amusement."-- from article written in 1949
In 1964 the Boerne Shooting Club celebrated its 100th Anniversary. The Directors of the club that year were Oscar Marquardt, Ed. J. Whitworth, Harry Phillip, Helwig Marquart, Jesse Lloyd, Thomas Phillip and Jim Clarkson. There were a number of paragraphs written about the organization at the time of the celebration. These articles describe the fun and joyful times, the awards and their winners, and some of the work involved in an organization such as this. There is a list of the 179 active members in the year 1964. These articles are available in the History-Genealogy Research Room of the Boerne Public Library.
Source: Boerne Public Library files.
Please press your Browser's BACK Button to Return to the Main Page