Search Limestone Co.
Comments, suggestions or contributions should be
directed to Cheryl...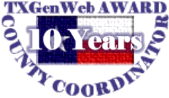 Shirley Cullum is the
State Coordinator...
(use links at top of page)
Limestone County, Texas was formed in 1846 from Robertson County. Records are available from 1873.
The County Seat is Groesbeck. The original courthouse in Springfield burned in 1873, with the loss of all records.
Fort Parker was the site of the massacre in 1836 in which most of the Parker family were killed, and some of the family members were carried off to become captives, including Cynthia Ann Parker.
---
The Hill Co Genealogical Society now has a web site. Please visit their new site for possible resources for your research area. http://www.rootsweb.com/~txhcgs/
---
The Butler Co. AL site has some of the tombstone pictures posted for Lost Prairie Cemetery you can see them HERE
---

There is a published Genealogy & History book for Limestone County. If you are interested please contact Michael Reese
If you like this site please nominate it!!
Nominate Limestone Co. fo County of the Month
Click here


In keeping with our policy of providing free information on the Internet, data may be used by non-commercial entities.
These electronic pages may NOT be reproduced in any format for profit or for presentation by other persons or organizations.
This site may NOT be linked to from a pay site. All data submitted to the Limestone Co. TXGenWeb remains copyright by the submitter.
Backgrounds & graphics with the exception of the TXGenWeb logo & USGenWeb logo are designed & remain the property of CBurks
Copyright © 2005 - Present